Project Jackie 2015| 傑基計畫 2015
Project Jackie is an experimental performance project derived from Yiou's master dissertation 'Stage' on Screen: Representations of Theatricality in cinema in the early 21st century, a discussion about the transmission and remediation in between theatre and cinema. Apart form the staged performance; Project Jackie will also be cinematized through camera lens, editing and montage etc.
《傑基》(Jackie) 選自2004年諾貝爾文學獎得主,奧地利詩人、小說家和戲劇家埃爾弗裡德·耶利內克(Elfriede Jelinek) 2003年創作的戲劇集《死亡與少女》(Der Tod und Das Mädchen)。此劇於2005年由魏育青教授翻譯成中文並發表。
《傑基》是耶利內克以美國總統約翰·肯尼迪(J.F.Kennedy)的夫人杰藿琳·肯尼迪(Jacqueline Kennedy Onassis)為原型所創作的一部探討女性與媒體、社會、權利、生命以及死亡之間關係的獨幕劇。這是一部沒有傳統的戲劇情節衝突的戲劇作品,取而代之的是大量意識流式的獨白和極為簡單的動作與場景。面對這一大段沒有任何分段、註解、標明的獨白,或者我們可以這樣理解: 耶利內克把傳統的戲劇衝突通過語言本身所具有的音樂性和流動性轉化為舞台上的一種聲音,以及與這種聲音背道而馳、相互矛盾的另一種聲音。她把兩種相互矛盾的聲音集中在她所創作的戲劇人物身上,來展現西方社會中那些主流意識形態、權利以及征服之間的戲劇衝突。
由此,通過傑基,耶利內克以一種荒誕式的邏輯,毫無顧忌、直接了當的對存在、真理、謊言、思想、理性、永恆、美麗、愛情、死亡、以及女性,這個被社會定義為"它者"的"第二性"(The Second Sex),進行了在肢體與精神層面上的雙向解构。
Elfriede Jelinek| 埃爾弗里德·耶利內克
Austrian playwright and novelist. She was awarded the Nobel Prize in Literature in 2004 for her "musical flow of voices and counter-voices in novels and plays that, with extraordinary linguistic zeal, reveal the absurdity of society's clichés and their subjugating power."
奧地利女作家。當代歐洲重要且最具爭議的文學家之一。於2004年獲得諾貝爾文學獎,但拒絕領獎。1967年發表處女作《利莎的影子》。其作品《鋼琴教師》於2001年被導演麥克爾·漢內克搬上螢幕。《傑基》選自耶利內克於2000年發表的戲劇集《死亡與少女》。
Yuqing Wei| 魏育青
Translator of Der Tod und Das Mädchen-Jackie. Professor, director of the German department of Fudan University in Shanghai; deputy director of the German department of University Foreign Language Teaching Committee of Chinese Ministry of Education, member of German Literature Research Council, and executive member of Shanghai International Studies Association.
复旦⼤学外⽂学院德文系教授、博⼠⽣导师、主任、副院长。德语文学研究会理事,上海市外文学会常务理事。曾获"上海市优秀教育⼯工作者",上海市翻译家协会"翻译成就奖"。从事德语言⽂文学教学和研究.
From The Director | 導演的話
"我不想要戲劇。也許我只想要去展示一系列行為活動來作為一些東西的代表。這種代表並沒有任何高深的含義…也許是一場時裝秀,女人們通過她們所穿著的服裝來發言。我想要變得膚淺。"
這是耶利內克在1983年的《今日戲劇》(Theater Heute)上發表的一篇文章。以戏谑幽默的語氣,她在這本德語劇場中最有權威的刊物上旁若無人的宣布:"Ich möchte seicht sein (我想要變得膚淺)。"真是太'任性'了,這位奧地利女人。而她的作品也是如此。傑基要像河邊的縴夫那樣拖著家中死去的遺骸們。為什麼?沒有為什麼。總之,無論如何她得幹活,得幹重活。面對這唯一的舞台提示以及27頁沒有任何分段,像瀑布一樣傾瀉而下的獨白,我仍記得自己第一次讀劇本時的感受:讀不懂,但是喜歡的,也許恰恰是因為讀不懂吧。
死亡、權利、統治、被死去的傑基穿在了身上。而傑基,恰恰是通過自己穿著的服裝在死去之後又重新復活。作為無數人夢境中高貴美麗的總統夫人、萬眾矚目的時尚偶像,她/他/它自己也搞不清楚。"服裝絕對是死的,儘管看起來它在我身上活著。或許,我是通過服裝才活著?"這樣的疑問在《傑基》中反覆被提出、解答、質疑、否定。"我不同男人鬥爭,而是同歧視女人的制度鬥爭。這種制度判定女人的價值,憑藉的是女人年輕的體貌,而不是女人的作為。男人的定義以其作為得到確立,女人的定義則來自其容貌和身體。"耶利內克是這樣把自己與西方傳統意義上的女權主義劃清界線。她選擇'任性'地走向相反的一方,選擇以一種殘酷的赤裸的方式通過對於女性服裝與身體的強調來讓我們看到所謂"制度"── 這隱形的龐大的社會權利機器製造出的意識形態所存在的侷限性。而這侷限性一定不僅僅只是存在於美國、奧地利、或是海洋另一邊的世界:就好比魯迅先生1923年在北京女子高等師範學校文藝會上對於《玩偶之家》中娜拉出走後的討論與耶利內克1977年所創作的《娜拉離開丈夫之後》對於娜拉未來的預言有著同樣的結論 ── 女性擺脫"玩偶"命運的唯一途徑,定是通過經濟與政治上的獨立──這些在服裝與身體之外,由"作為"而判定的,相對非物質意義上的獨立。
我想,這是為什麼我會堅持選擇耶利內克和她的傑基。無論在1977年的奧地利、1961年的美國,或是從1923年到當今的中國,作為女人,我們的追逐,我們所擁有的幸福與痛苦,我們的任性、我們的天真,我們那些被矜持所塗抹掉的嫉妒,我們對於衰老與疾病的恐懼;我們彼此間流轉的風光、黑暗、距離與歷史,還有我們的愛與死亡,也許是相似的。
於是我帶著好多問題,以一種"看不懂"的狀態,決定改寫和排演《死亡與少女-傑基》。 自14年11月開始,我背著相機和劇本去了上海、南京、深圳、柏林、米蘭、雷克雅未克 。15年9月,我們有了今天你所看到的,台上台下,台前台後這些可愛的靈魂們。無論是作為'Play',還是一場時裝秀,倘若在這諾大的北京城裡,傑基可以找到願意與她對話,或者說,能夠看到'任性'背後的能量,而願意'縱容'她'任性'的靈魂,哪怕只有一個也好, 這便是作為導演的我,最大的幸事。
希望她可以生長、發芽、像東方一樣美麗。
憶歐,於北京。 乙末年秋。
From The Dramaturge|Writing Her Names Down
Publishing a private letter is always problematic. Just as problematic as tearing a monologue apart, exposing - to all - a you from a me.
The text and the play - I want to play a game - was given to me, when I first received it, as a given, proper. I believe a gift as such should not be subject to tedious and mindless intellectual operation and analysis. Just as - forgive my ignorance - one should not be analysing clothes. Only after its position in the impossible realm of aesthetics is secured, perhaps, should we start considering its possibility as a piece of political statement. But at its core we find radical insecurity and politics in its most eventful moment, sooner or later.
Jacqueline Lee "Jackie" Kennedy Onassis, as she always is, hides in the shadow of John F. Kennedy and all his greatness (and even that of her second man, curiously named Aristotle Onassis). If, as I am often tempted to claim, really what envelops and wraps her is indeed in a cardinal relation to this woman in the text by Elfriede Jelinek - left alone to only herself, realised, fictionalised, virtualised, with and without being perturbed by either Death or Jack - it is only obvious that first and foremost she wears JFK on her. She wears JFK and all his histories on her, as the garment par excellence. Being naked is, after all, not affordable; she is dead anyway. So the common dilemma of wearing dead person's clothes is here transformed into wearing, after all, the dead body.
What is the totality of her knowledge? What does her not know of herself?
It was - at least at the beginning of the making of Jackie - maintained that amidst this rather nonsensical narration of one's relations, fabricated and manipulated, it is important to keep the uncertain (indeed spectral, I am tempted to add, regardless of all the possible grim consequences) from being purged and cleared away from itself. It is my ambition to admit with you and with ridiculous pride that the play is not what it is, but if the play could be essentialised and reduced at all, into a synopsis, a catchphrase, a series of keywords or merely a label, perhaps we will have to write down: feminist, a-feminist, theatrical, a-theatrical, literary, a-literary, textual, a-textual, visual, a-visual, contemporary, a-contemporary, avant-garde, a-avant-garde - among many other such couple of things. It oscillates between itself, and cancels itself in its perpetual oscillation.
Psyche is extended in her coffin. Soon it is going to be shut. Among those present, some are hiding their faces, others are keeping their eyes desperately fixed on Psyche's body. She knows nothing of this - and that is what everyone knows around her, with such exact and cruel knowledge.
Nancy, Freud or Derrida. We have heard, gently, patiently and numerously, how she knows nothing of this, but still, whoever this she is - Jackie, Jelinek, and Peng Yi'ou - this play must be staged, and the show must go on. This is where disinterest can finally begin to present itself.
Bowen Li
翻譯顧問Translation Adviser: 魏育青Yuqing Wei
文學顧問Dramaturge:李博文Bowen Li
劇本改編Adaptation:彭憶歐Yiou Penelope Peng;李博文Bowen Li
導演Director/製作人Producer:彭憶歐Yiou Penelope Peng
聯合製作人Co-Producer:Berglind Thrastardóttir(冰島Iceland)
編舞Choreographer:麥子Mlle Blé
舞台監督Stage Manager:李文聰Priscilla Li
Jackie: Giorgio Spiegelfeld (奧地利Austria) /蒼曼青Manqing Cang
魂靈The Deads:彭柯嘉Jane Peng/張與恬Ellen Zhang
聲音設計Sound Design:Giacomo Gianetta (義大利Italy)
服裝設計Costume Design:宋書夢Summer Song
舞美設計Stage Design:朱意文Evan Zhu
燈光設計Lighting Design:彭形影Xingying Peng
造型設計Stylist:鍾慧偵Huizhen zhong
道具設計Prop Design:蕭嘉偉Jiawei Xiao
影像設計Visual Design:劉淌Tang Liu
平面設計Graphic Design:朱劍辰Jansword Zhu
攝影師Photographer:邢磊Lei Xing
Trailer | 宣傳片
THE PERFORMANCE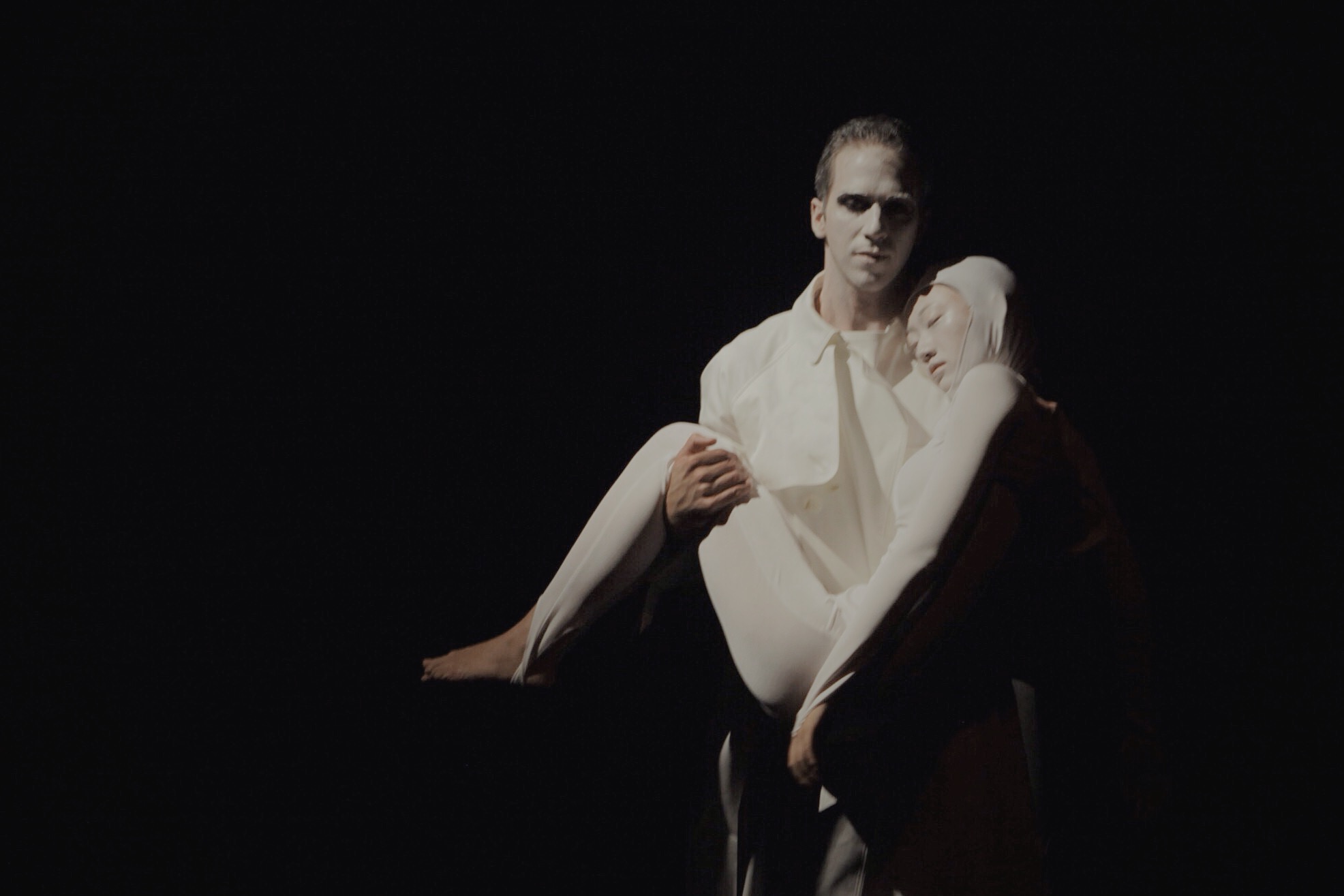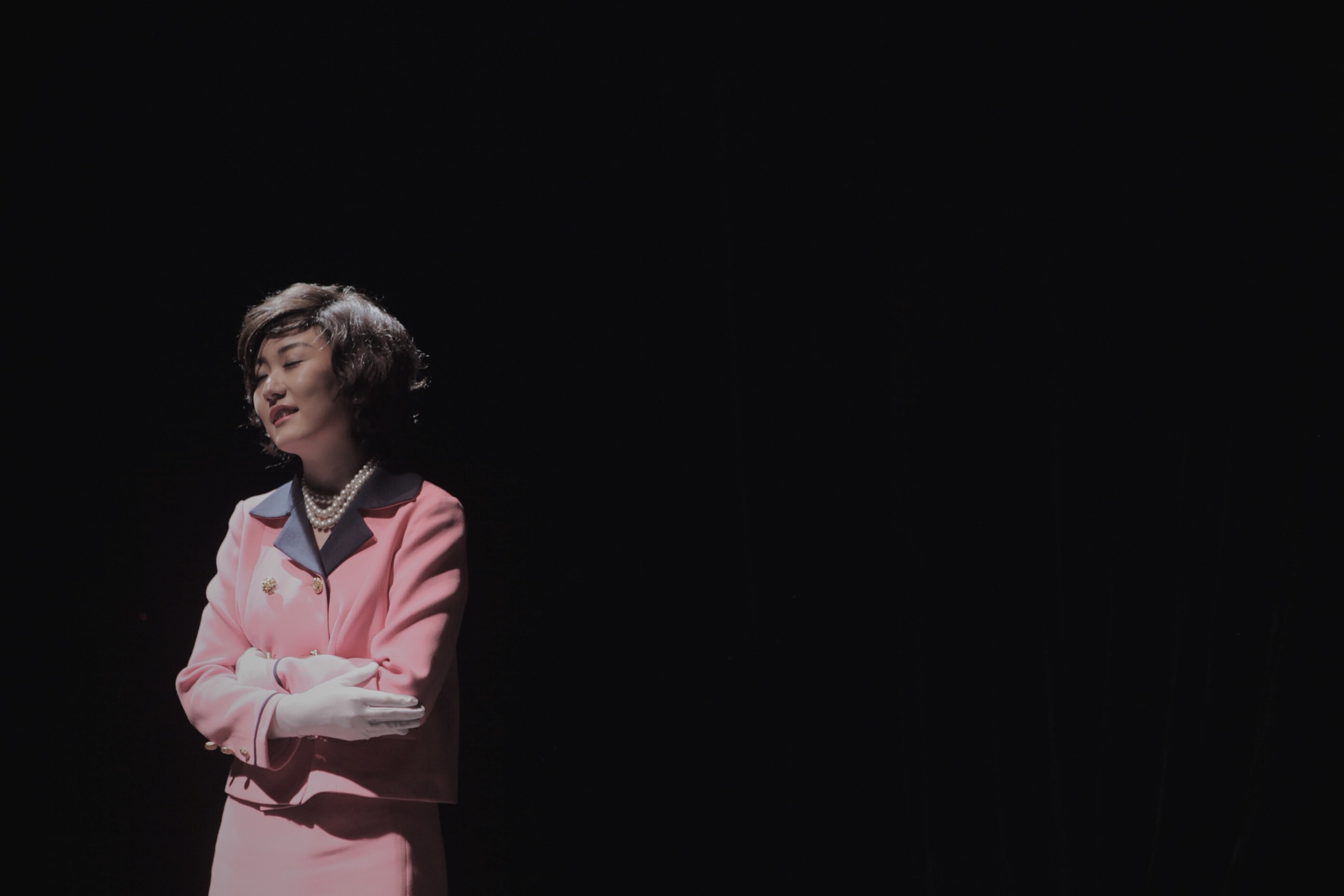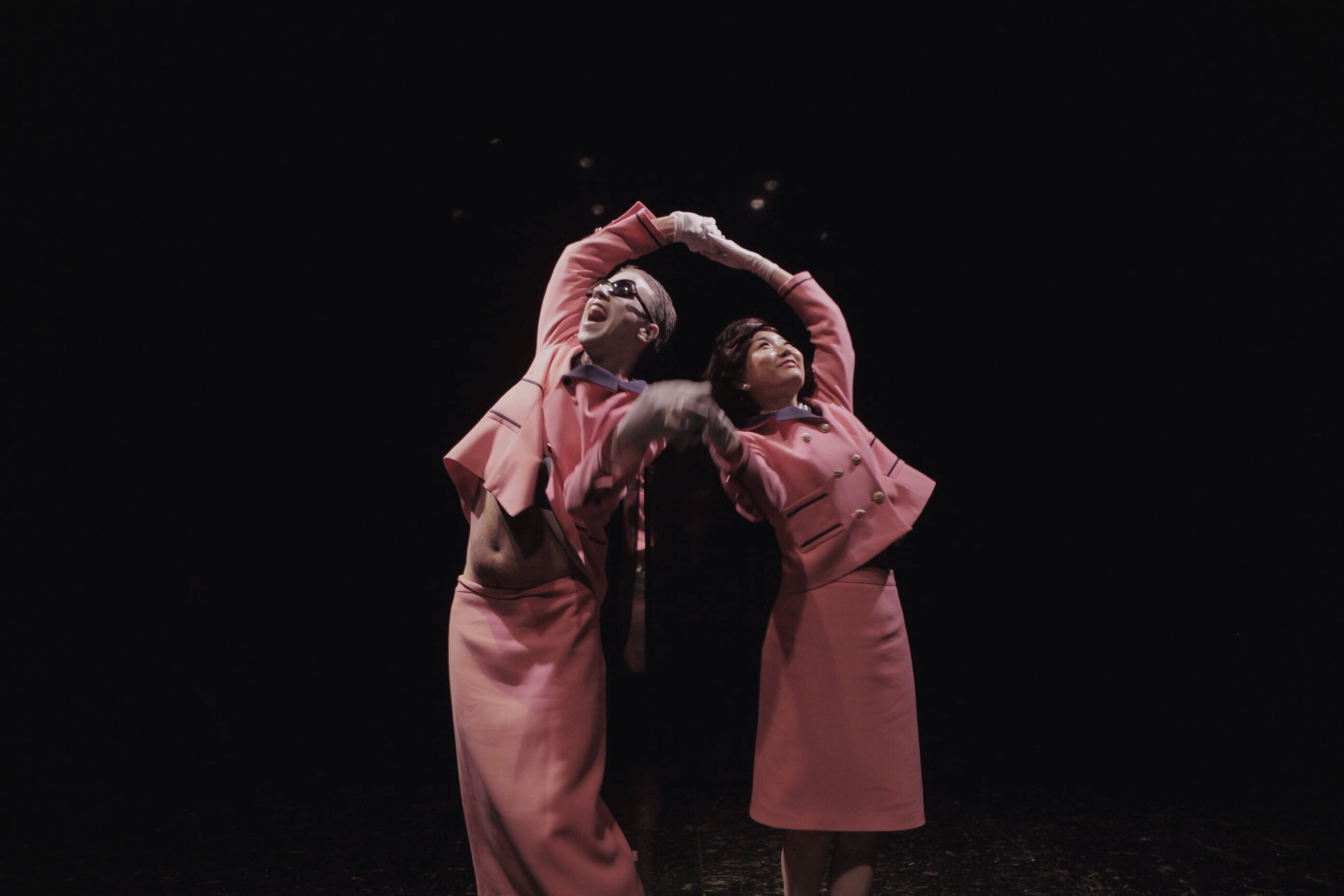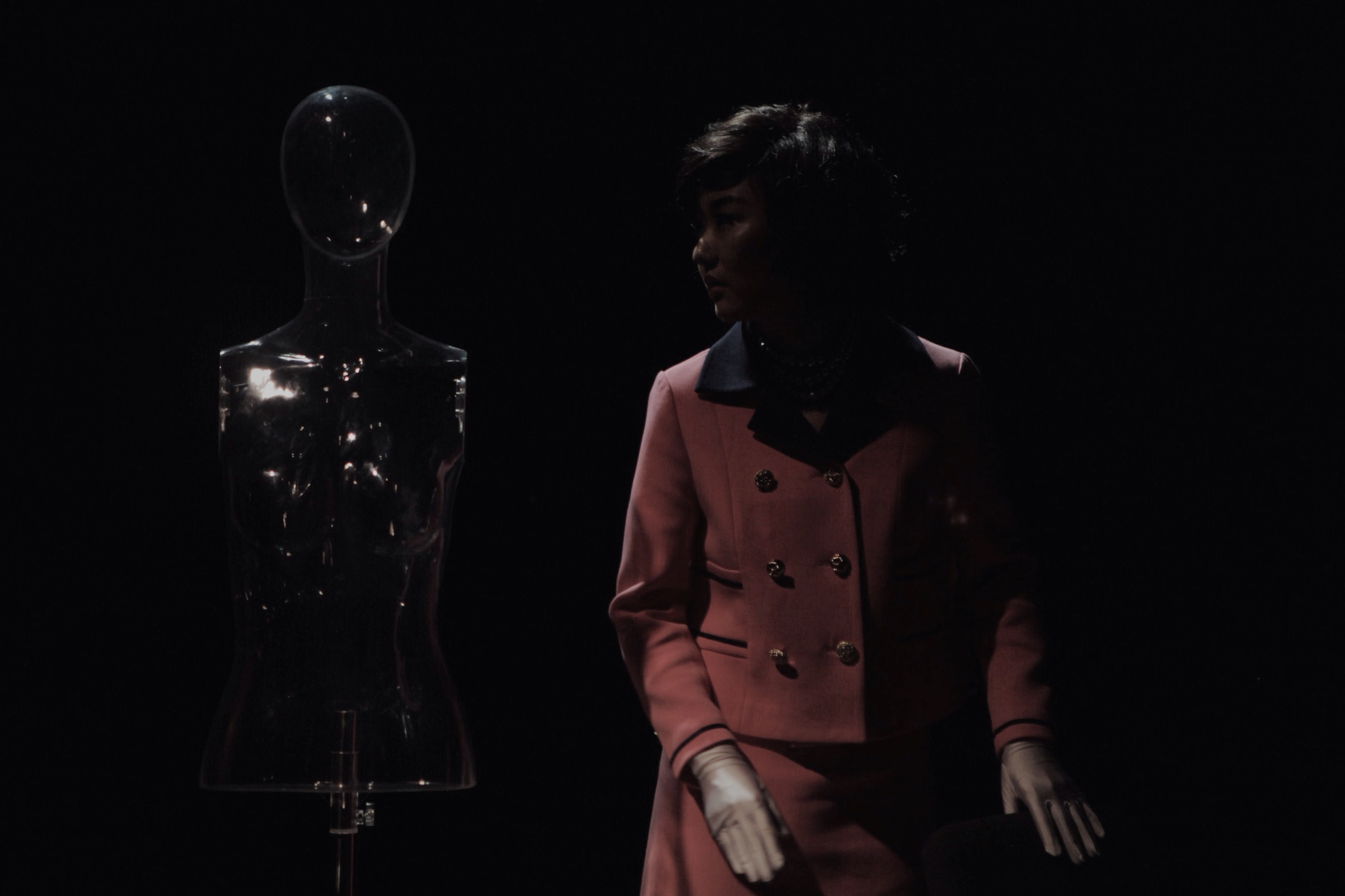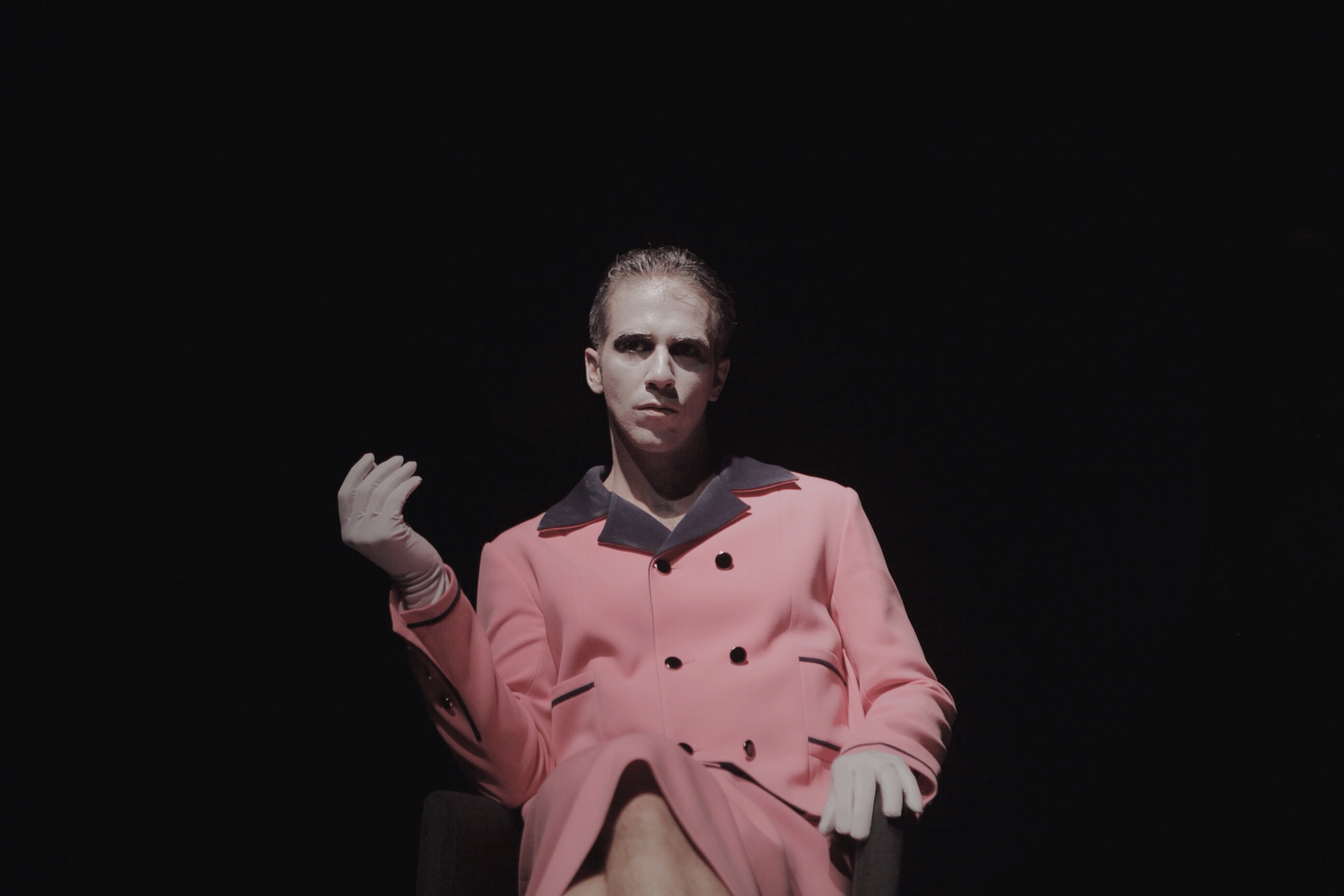 Support Jackie |支持傑基計畫
The dazzling monologue, Jackie, from the ever-astounding Elfriede Jelinek will be performed in Beijing in September 2015.
You can effect change, you can bring people together, you can send a message even when battling the oppression of not being allowed to use your words freely. We hope to deliver with this story a moment of transcendence from the concrete, political now that we are constantly bombarded with and wrapped up in. To convey a message that begins in the depths, so deep that it cannot be touched, and thus any politics will be masked, disguised by ideology, by abstraction, from the prodding eyes of notorious Chinese censorship. The themes are global, the themes are personal, Jackie is in all of us. She speaks to those of us behind the project as our personal heroine, not for any heroic act but for her quiet suffering. We see in this work an opportunity to touch people, the members of our Chinese audience, with something that from the outside would appear so seemingly foreign, but with a specific and local interpretation we transform the cultural barriers from solid to gas, the alchemists of team Jackie.
We opened our doors for free to those who took the time to sit and listen to the quiet tirade that pours out of our character. We wanted to create an exchange. We did not make a cultural product for consumption. We aimed to begin a discussion. Those who came and saw, we trusted them to let this stream of consciousness wash over them, wash into them, and with the introspection we now hope to stir perhaps there will come something, dare we say some answer, creatively and spontaneously achieved for the endless conflicts of the concrete, political now. We trust them, and we trust you, to help us in our project, to make our art real and available and to reify Jackie in Beijing,Berlin or other places in future tense.
Yours truly,
Team Jackie